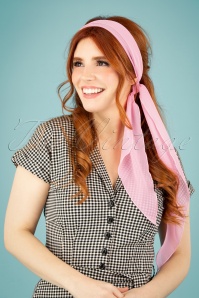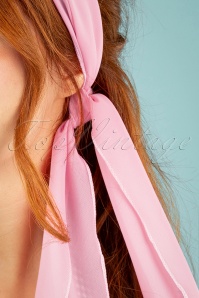 Chiffon Scarf Años 50 en Rosa Suave
¡Guapi! Complete every retro look with this 50s Retro Scarf and Headband in Soft Pink! Your vintage wardrobe isn't complete without this light-pink, semi-sheer chiffon scarf. In your hair, attached to your bag or tied around your neck or hip... she gives you the styling versatility you need! 
Versatile scarf
Semi-sheer
Rectangular design
The featured clothes are not available in our shop
Núm. de artículo
10678
Largo: 150 cm
Ancho: 15 cm
Ich liebe diese tücher und trage sie so oft es geht. Der Stoff ist meines erachtens etwas zu glatt, so dass der Halt auf dem Kopf nicht ganz gegeben ist, dafür helfen Bobbypins ;)
Nina Thienel
&nbsp|&nbsp
2018-05-16 15:13:45
---
Que du bonheur, oh la la oh la la, qualité, beauté, style, j'adore j'adore....je craque à chaque fois, je suis satisfaite et toujours impatiente de recevoir le colis. Avec la petite attention, découvrir la façon dont le colis a été soigné et préparé, c'est excitant et tellement agréable, je reviendrai encore et encore sans hésitation. merci. sophie
SOPHIE
&nbsp|&nbsp
2018-03-24 00:46:30
---
fr
Ravie de mes derniers achats !
Voilà! le facteur qui sonne! encore pour une dose de bonheur et d'excitation à la vue de cette boîte rose... C'est à chaque fois la même chose ;) . Petit commentaire sur mes deux dernières commandes : Super! Je recommande sans soucis. Un super "Plus" pour les chaussures noires, elles sont d'un très grand confort, en plus d'être très belles. Je les adores :) . Un petit "moins", enfin un petit détail qui a son importance (pour moi), la jupe rose est un peu transparente, du coût pour être sûre de la porter j'ai acquis une sous robe "modelante" qui joue parfaitement son rôle ;) . Bon! on voit un peu les coutures de la sous robe mais cela me gêne moins. Un petit mot sur la jupe bleu ciel et les chaussures, c'est tout simplement ravissant! A bientôt avec une nouvelle commande ;)
Isabelle RENARD DUFOUR
&nbsp|&nbsp
2018-03-17 13:51:07
---
De blouse is echt een leukerd! Lekkere stof en een mooie print. Op vele manieren te combineren.

Vandaag heb ik het jasje binnen gekregen en werkelijk waar...ik ben verliefd. Het jasje heeft een mooie stof en door de peplum kleed het mooi af.

De burgundy top had ik eigenlijk iets dikker verwacht. Verder is het een fijne top. Deze draag ik vandaag onder mijn niet blazer. Past mooi bij elkaar.

En de sjaaltjes? Always fun!

Hilly Loerts
&nbsp|&nbsp
2017-11-23 20:59:29
---
So I stumbled upon this website while searching for a vintage hair scarf. I was instantly in awe when I saw the red one. Soft material and great quality. However, I will be returning the soft pink hair scarf. In the picture it looked like a very light pink, unfortunately what I received looked more like a blushed peach.

I fell inlove with the hearts & roses floral swing dress, but I was in between sizes. I followed the size guide and was still sceptical about whether or not I had chosen the correct size. My order arrived the next day and I was estatic! The dress fit like a glove! My bra size is 85G, so I was relieved and happy to add this piece to my wardrobe.

I have been looking for brooches for quite some time, but apparently brooches are not very common here in the Netherlands. Or maybe I've been looking in the wrong places. Either way when I saw that peacock brooch I just had to have it. The picture does not do it justice! What a beautiful piece.

The teal vixen swing shorts was unfortunately a disappointment. I think the shorts is more suited for people with a petite figure. In my opinion it's not flattering on a curvy someone. Unfortunately I will be returning it. Beautiful color though. Very eye-catching.

The traffic people bardot top is also very beautiful. For some reason I pictured it being shorter and only noticed how long it was when I received it. Good quality and soft material. Unfortunately it made my bust look even bigger. I will be returning it as it was not quite what I was looking for.

The King Louie striped maxi dress was my biggest disappointment. It was love at first sight when I first saw the picture. Unfortunately, the material is very thin and very stretchy so it clings to the body. In my opinion not a good fit for fuller women and also the quality did not match the price.

The swing skirt is also another beautiful piece. The only reason I'm returning it is because I would have preferred it in another color. It flatters the hips and falls nicely.

I love love love love love the navy blue vixen tanya shorts. Great fit even for ladies with thick thighs like myself. It is definitely a keeper! The only con is that I had quite a hard time getting the zipper open, but I managed.

This website is in my favorites and I'm constantly checking for new arrivals. Lastly, the care that goes into the packaging is amazing! Thank you topvintage!






If
&nbsp|&nbsp
2017-03-18 15:49:08
Respuesta de Fleur

Dear If, I'm so happy to read that you put our website in your favorites! However, I do read that not all items were fully satisfactory, so I will write you a quick email today just in case I can help you :-)
Kind regards,
Fleur
Customer Service
---
Wären in einem Stretchstoff noch besser zu verwenden. Aber schöne Farben und lang genug für viele Varianten.
Verena
&nbsp|&nbsp
2017-01-05 15:57:48
---
auch noch in meinem fortgeschrittenen Alter. ;-)
Sigrid
&nbsp|&nbsp
2016-12-21 08:49:34
---
Wie immer ❤
Schöne kleine Ohrstecker genau wie ich gesucht habe.

Da ich bereits einige Tücher von ZaZoo hier Zuhause habe, war es eigentlich schon klar dass hellblau und soft rosa noch in meine Sammlung wandern müssen ❤
Das Binden geht wunderbar und dafür liebe ich diese Tücher einfach!

Wieder einmal bin ich hellauf begeistert.
Versand war wie gewohnt super schnell, so dass es jedes mal eine Freude ist, so schnell alles in den Händen zu halten ❤

Danke!
Anna-Katharina
&nbsp|&nbsp
2016-10-06 19:55:48
---
Dat is snel! 'smiddag besteld en de volgende ochtend bij de post: perfect! En dochterlief was superblij. Gekocht voor musical en eindfeest, maar ze liep er gisteren de hele middag stralend mee rond: jammer dat dit nu geen mode is "volgens een 12 jarige meid".
M. van Duin
&nbsp|&nbsp
2013-06-21 09:46:14
---
Waauw! Wat een service!
Mijn pakketje was verbazingwekkend snel in België! Ik hou van kleine details, dus het openen van de doos deed me glimlachen...
Alles wat ik bestelde past als gegoten, proficiat aan de dames die alles passen ter controle, goed gedaan!
Mijn schoonmoeder was een online-shop-maagd :) ik kreeg haar over de streep om het toch eens te proberen en met als resultaat: ze is dol-enthousiast en zal zeker opnieuw bestellen...
Proficiat, jullie slagen er in om elke vrouw gelukkig te maken met hoe ze er uit ziet!!!
Tot snel!
Belfi Bogaerts
&nbsp|&nbsp
2013-05-17 05:45:52
---
De jurk is werkelijk schitterend, staat supervrouwelijk, lekker dik stofje, fijn voor het najaar! Helaas toch retour: na enkele langere autoritten raakte de stof ter hoogte van de veiligheidsriem beschadigd. Echter als jurk voor gelegenheden is hij echt prachtig! Heb er dan ook zeker complimenten over gehad!

Het roze sjaaltje is aanvulling op de zwarte die ik al had. Krijg veel complimenten over mijn haardracht, en dat die 50s look zo leuk is :-)
Dieuwertje
&nbsp|&nbsp
2021-10-01 08:33:40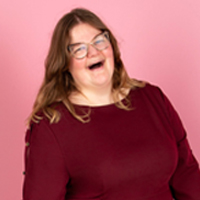 Respuesta de Nicole

Beste Dieuwertje, wat jammer dat de jurk zo snel beschadigd raakte! Maar zo te horen hebben we het samen kunnen oplossen gelukkig!
Groetjes,
Nicole
Klantenservice
---
de
Wieder einmal sehr zufrieden!
Kleid
Das Kleid ist ein absoluter Traum. Als Senfgelb-Fan bin ich froh, jetzt auch außerhalb der Senfgelb-Saison ein schönes Kleidungsstück in dieser Farbe tragen zu können. Wegen meiner großen Oberweite habe ich es zwei (!) Nummern größer bestellt und nun sitzt es am Busen perfekt und ist an der Hüfte einige Zentimeter zu weit, was aber durch den Gürtel überhaupt nicht auffällt. Ich bin sehr verliebt in dieses Kleid! Der glatte, schwere Stoff fühlt sich sehr wertig an, ist aber auch etwas empfindlich. Wer z.B. Haustiere hat, sollte sich gut überlegen, ob man seinen bekrallten Vierbeiner damit auf dem Schoß haben möchte ;)
Bluse
Ebenfalls ein Träumchen und mit sehr schmeichelhaftem Schnitt.
Hose
Sehr bequem und (zum Glück) nicht so legginsartig wie auf dem Foto. Für eine große Dame wie mich (180cm) könnte sie sowohl in der Taille höher und an den Waden ein My länger sein, aber ich habe es ohnehin aufgegeben, eine perfekt sitzende Hose für mich zu finden. Die hier ist immerhin sehr nah dran.
Shapewear
Beide unerwartet bequem und trotzdem mit sichtbarem Effekt. Beim Waspie hätte ich mir eine zweite Reihe Ösen gewünscht, damit er etwas variabler im Umfang ist. Die kann ich aber zur Not auch selbst noch einnähen.
Haartücher
Nicht so wertig wie erhofft, aber für den Zweck okay. Achtung: Das rosane Tuch ist sehr pink. Passt zum Glück trotzdem zu meiner Garderobe.
Versand war wie immer top. Danke, liebes Team von TopVintage!
Kathi
&nbsp|&nbsp
2021-03-22 11:46:44
---
Precies wat je er van verwacht. De zwarte is wel wat prijzig (gezien het een lapje stof is), maar verder prima.
Lara Dijkstra
&nbsp|&nbsp
2020-08-11 12:12:25
---
nl
*****Happy Cherry lady, Top Model Dress*****
Kleine doos geopend met swing jurk, Stevig lichte katoen bijna kreukvrij.
Niet doorschijnend, mooie print rode kers roze bloempjes groene blaadjes op helder witte stof.
Trek jurk aan dán pas zie je hoe ongelooflijk mooi het maaksel is, slank makend en op alle rondingen goed zittend.
Off schouder maakt een tikkeltje ondeugende look.
Een van de Bunny toppers deze swing dress voor de zomer.
De sjaaltjes zijn zacht en stevig materiaal: sneeuwwit en mooi, Roze sjaaltje feller van kleur dan op foto, vind ik wel nog leuker.
Voor van alles en nog te versieren en echt zomers ook!
Mijn dank weer aan T.V.
J.S
&nbsp|&nbsp
2020-06-19 09:39:32
---
Mijn eerste bestelling ooit en dan direct voor de 50's... zeer mooie verpakking, leuk extraatje, kledij is gewoon top en past perfect.... voor mij is het bijna 2u rijden maar na de Corona kom ik zeker eens naar de winkel!
Els
&nbsp|&nbsp
2020-06-18 08:27:03
---
Jurkje in combinatie met de bolero is onwijs leuk. Ik was wat bang dat de jurk iets te lang zou zijn voor mij (1.60m), maar dat valt erg mee. De print en pasvorm is heel mooi en ik straal helemaal als ik hem aandoe. Het sjaaltje had helaas niet de kleur die ik dacht dat het zou hebben, het was naar mijn idee wat feller roze dan op de foto waardoor het niet bij mijn jurk paste. Dit sjaaltje kan ik vast nog ergens anders voor gebruiken, dus het is niet heel erg.
Janine Van de Kaa
&nbsp|&nbsp
2020-05-07 13:45:39
---
J'ai commandé cette superbe robe et ces chaussures magnifiques et que dire à part waouuuu ! ❤️ La robe est sublime et taille superbement bien... Les chaussures sont confortables et superbement belles... Le tout emballé avec grand soin et un petit cadeau en prime... Bref... La première d'une longue série ♥️ je recommande !!!
Stéphanie Hublet
&nbsp|&nbsp
2019-11-14 09:20:23
---
nl
Deze set is gewoonweg PERFECT!
Ondanks dat ik in Maart alweer 38 jaar werd :P voelde ik me op mn verjaardag de allermooiste vrouw van de wereld door jullie!!!
Ellen Scheuller
&nbsp|&nbsp
2019-05-18 15:31:24
---
Ik heb deze prachtige lieve nieuwe aanwinst in goede orde ontvangen. Nadat ze per ongeluk op mijn ouwe adres waren beland heb ik dankzij de lieve dames van de klantenservice van topvintage nieuwe opgestuurd gekregen naar mijn nieuwe adres. Ben superrrr blij mee Thanks babe's
N Azahum
&nbsp|&nbsp
2018-07-16 18:45:53
---
Für das Geld echt in Ordnung. Ich wollte einen locker leichten Schal für Hals und Haar und das hab ich bekommen ich bräuchte ihn für ein esmeralda Kostüm und dafür hat er perfekt gepasst. Sicher werde ich ihn aber so auch noch tragen
Kea
&nbsp|&nbsp
2021-12-07 11:25:38
---